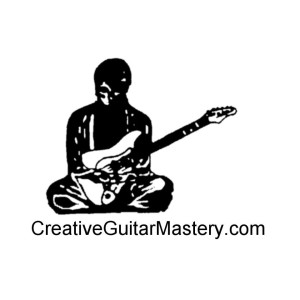 Welcome to CreativeGuitarMastery.com, home of the Creative Guitar Mastery series of guitar learning.
The Creative Guitar Mastery™ Series is college-level learning geared toward that special learner trying to nurture your own unique creative voice through the practice of creative guitar. This learning offers top-down, thorough, and practical knowledge leading toward a complete mastery of the guitar as a creative instrument.
the Creative Guitar Mastery™ series
ISSN (International Standard Serial Number) Information
Creative Guitar Mastery (print) ISSN 1545-8385
Creative Guitar Mastery (CD) ISSN 1545-8407
Creative Guitar Mastery (online electronic) ISSN 1545-8393
The Creative Guitar Mastery Series
www.CreativeGuitarMastery.com
an imprint of DoublePlanet.com
1332 Cat Gap Clayton, Georgia 30525
Web: www.DoublePlanet.com
E-mail: chris@doubleplanet.com
Phone: 1-(706) 438-2053
This product features expert learning that is highly-synthetic, especially for medium-to-advanced students. Make that leap in understanding that leads to a more true mastery of using the guitar as an extension of your own unique creative vision and voice. This course simplifies complex music theory ideas, making them readily accessible to the learner.
Medium to advanced students of the guitar seeking mastery of the instrument in a condensed and synthetic way will get the most out of this. This gives you the most important learning to get a grip of guitar life-style musicians. Our material is nothing fancy, just plain good learning design teamed with expert content about applying the elements of guitar mastery to the development of your unique creative vision and voice.